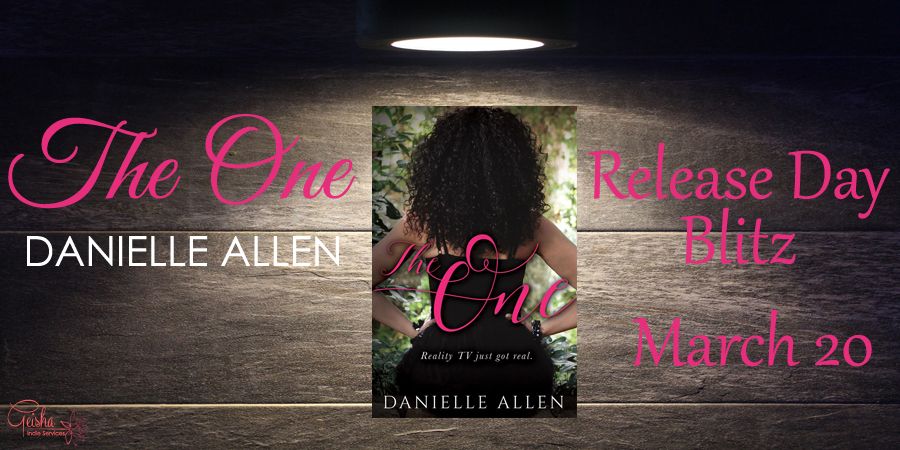 The cattiness.
The fights.
The shaming.
I don't generally watch reality television, but I definitely don't watch reality dating shows. Besides the fact that it's completely staged, it's a horrible depiction of people -- women especially.
Women are pitted against each other to compete for the affection of a man they "fall in love" with after a week or two.
I call B.S.
It is complete crap.
So when my best friend, Koko, was hired as a makeup artist o the set of the most popular reality dating show, The One, I teased her mercilessly.
She told me that if I didn't stop teasing her, she would get me back.
And she did...
Which is how I ended up as a contestant on The One.
Add it to your TBR Today!!!

Available Exclusively On Amazon and Kindle Unlimited

Jenny's Review
When Zoe best friend, Koko decided to get back at Zoe for teasing her about working as a makeup artist on the dating reality TV show, The One, she didn't expect her friend to actually apply as Zoe and for Zoe to be on the show as payback. Initially, Zoe is completely against going on the show. But when she sees the Bachelor, Julian picture and she trying to distract herself from not taking the bar, it's a means to an end to go on The One. Not becoming a liar to her parents and meeting Julian Winters.
What was meant to be an escape from not disappointing her parents becomes so much more than she expected. She never intended to fall for the guy.
I love Zoe, just like most of the heroines in Danielle's books she is self assured, no nonsense and don't take crap from anyone That doesn't mean she can't be hesitant, and even scared of the intensity for her feelings for Julian in such a short time. When Zoe realizes how deep her feeling become for Julian and he's in fact dating 11 other women, the line between what is reality and what is fake becomes blurred. The sexual tension between Zoe and Julian oozes off the screen of my Kindle. Every time they're together I felt like their chemistry would combust.
The book also show some of the lengths some people will go for the name of love or the name of fame. And some of the antics of the other women on the show are hilarious and sometimes a bit crazy.
I can't say enough about Danielle's books. Each time they get better and better. I'm not a fan of reality dating shows, hell I can say I've never watched an episode of the Bachelor but reading The One, I could imagine the emotional toll it can take on anyone who decides to go on that type of show. You can definitely feel every emotional situation Zoe went through when it came to Julian and even her interaction with the producers and the other women. Each situation kept you guessing, is it real love or is it for the show. I like the little twist and turns and also how Julian and Zoe's relationship develops in such an intense situation as a reality show. If your a fan of dating reality shows, you will love this book. If your not a fan, like I am, you will be glued to the story, reading how it ends and hoping for a happily ever after. Either way, you will not be disappointed that you read, The One.
Excerpt
"Ohhhh, yeah," I remembered, familiarity of the case and the names flooding my brain. "'Sweet'. That case ended her music career, didn't it? I loved that song. I vaguely remember that he was the one who wrote it, but they settled out of court, right?"

"Yes. But do you know what he looks like now?" My best friend inquired.

"No… I just remember being fascinated by the case because—"

"I'm going to go ahead and stop you right there," she interrupted, cutting me off mid-sentence.

"We are not going to talk law right now. We are going to talk about you having the chance to bump uglies with Julian Winters. He is the—"

I frowned as I interjected, "The sheer fact that you said 'bump uglies' has disqualified you from giving me advice about anything in general, but sex specifically. You need to—"

A quick knock on the door followed by the sound of it being pushed open forced my sentence to end abruptly.
Author Interview
Jenny: You're new book, The One is based on a reality dating TV show, what are some of your favorites to watch?
Danielle: Like Zoe Jordan, I really don't like reality dating TV shows. I watched the Bachelor after reading an article about the lack of diversity on The Bachelor and the lawsuit that was brought against them, I decided I needed to see for myself. And…I kind of got sucked in. Ha! But I haven't found a reality dating TV show that didn't feel sketchy.
Jenny: Many of the heroines in your novels are strong, self assertive females, where does your inspiration come from?
Danielle: I would like to think a little bit of my personality resides in each of my characters. Of course, characteristics are over exaggerated, but people who know me well have remarked that my last two heroines (Tatiana and Zoe) are a lot like me. But there's truly a little of me in all of my heroines—Sahara Lee(Back to Life) was a hot mess and such a cry baby…and I can be emotional. Autumn was a hopeless romantic and Summer was skeptical (Autumn and Summer)…and I am somehow simultaneously both. The list goes on
J
Jenny: I noticed a lot of your novels are accompanied by playlist, what songs or musicians are you into right now?
Danielle: I love music. I mean absolutely love music. I've been listening to the playlist for The One for the last few weeks obsessively. I try to make sure to have an eclectic mix of songs on the playlists to represent my tastes. I love Drake, Ed Sheeran, Kanye… And I have so many favorite songs… it depends on my mood. A few of my favorite albums are The Blueprint (Jay Z), Late Registration (Kanye West), The Real Thing (Jill Scott), Jagged Little Pill (Alanis Morissette), Songs about Jane (Maroon 5), Lupe Fiasco's Food and Liquor (Lupe Fiasco) and 21 (Adele). I could listen to every single one of those albums from top to bottom without getting bored. There are seriously too many artists and songs to name so I will tell you my favorite songs on the playlist for The One (even that is hard because I love them all!) But top four songs you HAVE to listen to right now because I'm afraid you may not have heard them before: I Was Made For Loving You by Tori Kelly ft Ed Sheeran, Babylon by SZA ft Kendrick Lamar, Prototype by Outkast, and Need The Sun To Break by James Bay.
Jenny: You have a poem with Brittainy C Cherry in The One, how did that collaboration come about?
Danielle: Brittany and I are kindred spirits. When I was telling her about my character and we were discussing our love of poetry, I asked her if she wanted to contribute to the character's poetic stylings. She said yes! So she submitted a poem and I added to it and then when we were both satisfied, it became a really awesome collaboration.
Jenny: Who's your current celebrity crush?
Danielle: Jesse Williams. And honestly, it has more to do with his intellect than anything else. I obviously find him attractive, but when I heard him speak about some issues that were also near and dear to my heart, I swooned. His eyes are great…his smile…his muscles…all of that is such a pretty package and it surrounds the most deliciously intelligent and knowledgeable mind.
Jenny: If you could be on a reality show, which one would it be and why?
Danielle: I would be on Jeopardy. Haha that makes me sound super boring! (I promise I'm fun, guys!) I would also go on the Voice. No one would turn around for me, but I love to sing!
Jenny: Last 5 star read?
Danielle: My last 5 star read just so happens to be my last read period… The Fire Between High and Lo by Brittainy C. Cherry. Brilliant. And has so many layers and depth. People are going to be blown away.
About The Author
Danielle Allen is a lover of football, fashion, film and fiction. Married to the yin to her yang, Danielle spends most of her time with her husband, family and friends. From karaoke nights to vacationing and everything in between, she enjoys making the most out of the life in which she's been blessed. Danielle spends her days teaching and event planning and her nights writing.
Danielle Allen is the author of the Back to Life Series (Back to Life, Back to Reality, Back to December*), Love Discovered in New York, Autumn & Summer, the Heartache Series (Heartache, Heartfelt, Heartless*) and Work Song.
a Rafflecopter giveaway